Since 2006, the World Luxury Hotel Awards are the most prestigious awards for the luxury hotel industry worldwide. More than 300,000 international travelers vote each year over a four-week period to select the winners. This makes it an opportunity for hotels to achieve a reputation like no other. Do you want ideas about places to spend your next vacation? From Luxury Moments Group we offer you 10 ideas of places to stay in Spain.
Among the more than 720 awards granted in 2019 in 99 categories and 4 levels (global, continental, regional and state) there were 20 award-winning Spanish hotels. In this article we present ten of them.
ABRIGA HOTEL & HOME SUITES (SANT FELIU DE GUÍXOLS, GERONA)
In the quiet bay of Sant Pol in Sant Feliu de Guíxols, you will find one of the luxury hotels in Costa Brava, a 5-star Great Luxury resort with all the amenities and services to enjoy every second in the resort. With the possibility of hiring a butler or a concierge, the complex promises a luxurious experience so that you only have to rest and relax.
With a wide gastronomic offer, based on local products, you can choose between its gastronomic restaurant Terra, its Sea Club and the cocktails of the Lovee Bar.
It was the winner in the Luxury Cultural Hotel (Continental) category for its design, history and for hosting events ranging from art exhibitions to fashion shows.
AR DIAMANTE BEACH SPA HOTEL & CONVENTION CENTRE (CALPE, ALICANTE)
With three swimming pools equipped with all the comforts, a few meters from the beach and with elegant rooms, with a very personal design, the AR Diamante Beach is an ideal place to enjoy, rest and disconnect. Do you think that's little? You can try its wide range of wellness treatments.
Its recently renovated Audrey's restaurant is the perfect place to celebrate a special dinner or enjoy a day of vacation with its dishes full of elegance and good taste.
Winner in the category Best General Manager (Continental).
BARCELÓ TEGUISE BEACH – ADULTS ONLY (COSTA TEGUISE, LANZAROTE)
Barceló Teguise Beach is an adult-only hotel on the front line. With 305 rooms, each of them guarantees relaxation, comfort and spectacular views of the wonderful surroundings of the islands.
With a wide sports offer both within the hotel and in the surroundings, the practice of water sports is one of its strengths. Also its activities for nature lovers, and its fantastic restaurants and bars.
Winner in the category Luxury Resort of Costa (Continental).
GRAN HOTEL DOMINE (BILBAO, PAÍS VASCO)
Right in front of the Guggenheim Museum, in any of its 145 rooms you can enjoy a luxury stay in the heart of Bilbao. One of its main attractions is the terrace that is located on the top floor of the hotel where a magnificent breakfast is served and from which to enjoy extraordinary views of the Nervión River.
In addition, you can enjoy a varied culinary offer in its restaurant Beltz haute cuisine or in Le Café for more casual lunches and dinners. We also recommend having a cocktail or a glass of champagne in the elegant Bar 61.
Winner in the category Luxury Rooftop View Hotel (Country).
GRAND PALLADIUM PALACE IBIZA RESORT & SPA (PLAYA D'EN BOSSA, IBIZA)
The Grand Palladium Palace Ibiza Resort & Spa is an all-inclusive hotel in the heart of Ibiza. A perfect place for families, couples and friends who want to enjoy a luxury experience on the island. Four swimming pools, spectacular views of the longest stretch of white sand beach in Ibiza, beautiful gardens and exotic vegetation will make you enjoy a stay in an unparalleled paradise.
A complete offer of four a la carte restaurants, three show cooking restaurants and six bars that will allow you not to leave the resort and enjoy a full experience.
Winner in the category Luxury Romantic Hotel (Country).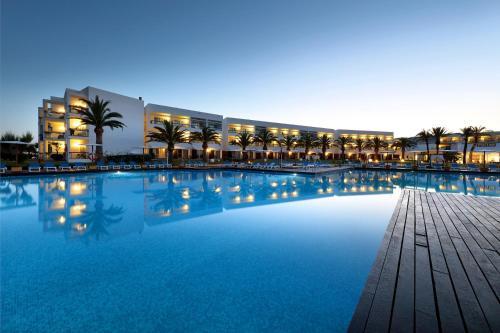 HOTEL LA CAMINERA CLUB DE CAMPO (TORRENUEVA, CIUDAD REAL)
Miguel de Cervantes said there was a place in La Mancha. If I had known the Hotel La Caminera Club de Campo, I would have written about THE place of La Mancha. The place where time stops, where you can enjoy the most elegant place. A paradise for calm.
Overlooking the golf course and the Manchego landscape, the Prado Lounge Restaurant is a perfect place to savour Javier Aranda's gastronomic proposal in an informal and relaxed way.
Winner in the category Luxury Wellness Hotel (Country).
MELIÁ BARCELONA SARRIÀ (BARCELONA)
The Meliá Barcelona Sarrià is an elegant hotel in the heart of Barcelona. It is the perfect option if you want to go sightseeing or have a business meeting in the city. With a spectacular modern and functional design, it is not only perfect for its location, it is also perfect for its spa, the Yhi Wellness, from which you will come out as new.
Winner in the category Luxury Hotel & Conference Centre (Continental).
ROYAL HIDEAWAY CORALES RESORT (ADEJE, TENERIFE)
Do you want to enjoy a personalized experience only for adults? The Royal Hideaway Corales Beach is your destination.
In the paradisiacal enclave of Tenerife, with more than 300 sunny days a year and with an extraordinary nature around, this hotel is an oasis of peace and tranquillity, an exclusive and innovative luxury resort, where attention to detail is the priority. Designed by the architect Leonardo Omar, it is shaped like a boat and is inspired by the island's marine corals. This is the concept that guides not only its decoration, but also the tailored experiences offered to each of its guests.
A wide range of wellness and restaurants that will make you not regret your choice.
Winner in the category Luxury Beach Resort (Country).
ROYAL HIDEAWAY SANCTI PETRI (SANCTI PETRI, CÁDIZ)
An exclusive paradise of sun, sea and luxury on the Cadiz coast. That's the Royal Hideaway Sancti Petri. Its privileged location, on the seafront of the long, sandy Barrosa beach, and its connection to Jerez Airport and the capital, make it a perfect enclave to enjoy your holiday.
195 rooms with modern and elegant design, equipped with the latest technology to make your stay as comfortable as possible. With an original design, the entire complex, consisting of five outdoor swimming pools with hydromassage, natural lakes and more than 35,000 m2 of lush tropical gardens, make it a unique resort in Spain. In addition, in any of its five restaurants you can enjoy healthy food with the local product as the protagonist.
You can relax in its spa, the U-Spa, which has won many international tourism awards. A luxurious experience not to be missed.
Winner in the category Luxury Beach Resort (Continental).
HOTEL W (BARCELONA)
The W Barcelona hotel was designed by Ricardo Bofill, an internationally renowned architect. This design is the best setting to enjoy a unique vacation. On the beachfront, it has 473 fabulous rooms and suites with panoramic views of the Mediterranean and the city of Barcelona.
Its Michelin star restaurant, "La Barra de Carlos Abellan" will make you enjoy an extraordinary experience. If you are looking for glamour, you will find the Eclipse Bar on the 26th floor and if you like cocktails be sure to visit the Wave and W Lounge in its lobby.
Winner in the category Luxury Architecture Design Hotel (Country).